Welcome to that awesome time of year. We've gotten through January, some of us more frozen than others. Punxsutawney Phil has seen his shadow, so we're due for 6 more weeks of winter. Here are some tips that will hopefully at least get you through Valentine's Day all warm and toasty, in one way or another!
If you're all coupled up, start reading here. If you're not, you can  skip to the next section, dealer's choice.
1. Liquor + chocolate: The marketing for Valentine's Day skews heavily toward wine, I'll admit.  But the same things that go with wine, also work with your favorite whiskey or rum.  Try pairing bourbon with chocolate covered oranges. If you've read any tasting notes or reviews of whiskey, you've probably seen descriptions like, "caramel notes". To complement that, try adding a lovely dark chocolate truffle from Godiva or a local shop like Chuao Chocolatier if you're in SoCal.  If you're a fan of rum, try adding gingers or lime flavors – Trader Joe's makes a great chocolate covered ginger.
2. Liquor + food: Like suggestion #1, you've probably seen wine and food pairing dinners at your local restaurants.  If you look, there are starting to be a few whiskey pairing dinners, too.  Food pairings are all about what you like, and what you want that day.  I've never been one to follow the rules about very many things, so why do it with what I'm drinking?  It's very much a matter of personal preference.  So mix it up!  You probably can't go wrong (if you're carnivorous) with a great steak: add a spicy rye like Templeton's and see if you like it!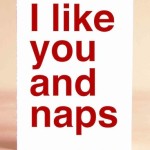 3. Gifts + liquor. I recently read an article that said if you get her a bottle of bourbon, she'll know it's really for you.  Are you sure about that?  I'd be stoked to get a nice, sweet bourbon in lieu of chocolates!  But, in case your +1 isn't up for it (there's always next year, start working toward it now!), you can get them other interesting craft liquor-related things.  Check out this Yours, Mine & Ours decanter set.  If you want something more, well, I'd call it "traditional", but you decide: handwash called "whisky & water" or a perfume that smells like gin.
If you're celebrating Singles Awareness Day (cheers to whoever thought that one up!), welcome! You're in good company, trust me on that.
1. You + you. Be your ownvalentine, damnit! No one says you have to have someone else to be happy, today or any other day. Treat yourself – well! If you go out, you can often get the same food at the bar – without the reservation or staring at an empty chair. Also without having to say my personal favorite phrase, "Yes, just me". Take yourself somewhere that has craft liquor on the menu. It's a great way to try something new, without having to commit to the entire bottle. Never had gin? Want to try a spicy rye, but aren't sure? Do a little online sleuthing first, so you'll know what they have. You can always ask your bartender what they suggest, too. Here's a great recipe for a Scofflaw – it's tasty, the right color for the holiday and easy enough to either make at home or ask your favorite bartender to make for you. But please: like any other night, drink responsibly – call a friend or a cab!
2. Liquor + liquor. OK, fine. Some of us won't want to go out, surround ourselves with others or any of that happy smushy stuff. Guess what? A bloody Mary with a selection of vegetables mostly counts as dinner. At least it's vegetable-based, right? Check out Ballast Point's Bloody Mary mix – you won't need extra spices or anything, it works right out of the bottle!  Throw in your favorite vodka: Anchor Distilling's Hophead Vodka is ridiculously good by itself or in a cocktail.  For those craft beer lovers reading, you need to try it! Hoppy goodness.
3. You – liquor. For those that followed suggestion #2 a little too vigorously, you may need some help. Enter hangover cures. There are a ton of tips and tricks that the gods of the internet will tell you about: greasy food, carbohydrates (like toast or rice), coffee, coconut water. Even Mythbusters have an episode called, "Hangovers for Science"!  Personally, a combo of sleep, coconut water and a nice cheeseburger (the next day, not 2am!) works wonders.
Hopefully these tips will help get you through February 14th, no matter your +1 persuasion.  Post a comment, tell me what you choose!