I'd heard of Old World Spirits before seeing them at my local BevMo, but didn't really know too much about them. I decided to take a chance when I saw it in the case – I was in the mood for rye – and I'm glad I did! Old World Spirits Goldrun Rye is made from 100% Organic White North Dakota Rye. You don't find many ryes that are 100% rye (the rules dictate that they're at least 51%). OWS's website notes it's produced like an Eau de Vie, "..distilled twice in small batches in a unique way that enables us to retain rich yet floral aromas..". I'd agree – it really is different from the other rye whiskies I've had.  It's versatile as well – everything I did to it worked.  Here are my tasting notes- sláinte!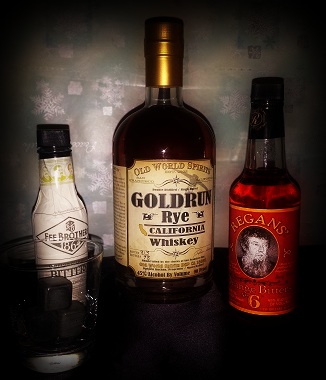 Color: medium golden amber, what I would expect in an American whiskey
Nose: has the sweet/slight burn that has rye written all over it.  Not heavy or overpowering. As you get more familiar with whiskey, you may be able to tell one type of whiskey from another (rye vs. bourbon, etc) simply by smelling them.
Taste:  For a 90 proof spirit and 100% rye no less, this is a very smooth whiskey.  The initial taste is a little sweet, with a bit of burn at the finish.  I've tasted more than a few whiskeys recently, but this one made me look at the glass and say, "Wow" – and want to immediately taste it again.
ABV: 45% (or 90 proof)
Price point: $59.99 (in-store at BevMo, SoCal)
Other notes:  I will say I've spent some time with this whiskey: neat, with one ice cube, in a lovely cocktail with Art in the Age's SNAP (which will get its own review, stay tuned, ginger fans!).  This rye is very versatile – it held up well in every way I tried it. I'd say grab it if you have the chance.
2.5 out of 3 – yum!