As seen on AMC's Mad Men, the Moscow Mule has been gaining in popularity. While you might not have copper mugs, it will be just as tasty in an old fashioned or Collins glass.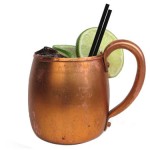 INGREDIENTS
1¼ oz vodka – try Venom Vodka, 619Vodka or Black Momma Vodka
3 oz ginger beer
1 tsp simple syrup
¼ oz lime juice
1 sprig mint
1 slice lime
INSTRUCTIONS
In a copper mug or cocktail glass, pour vodka over ice. Add sugar syrup and lime juice. Top with ginger beer and stir. Garnish with mint sprig and lime slice.