The Adventurous Spirit:
This bottle is dedicated to the original journeymen: the ones who made the spirit of adventure true. These men took risks and dreamt big; they were entrepreneurs in every sense of the word. With our W.R. whiskey we salute all the journeymen that came before us.
This is the back label for the W.R. Whiskey from Journeyman Distillery. I think it sets the stage nicely for the whiskies they make. It speaks to craftmanship and respect, two vital components of any great business. Journe
yman recently collaborated with three other craft distilleries, to create a bourbon called Four Kings. While I'd had the hooch from FEW Spirits and Corsair Artisan Distillery, I hadn't had Journeyman nor Mississippi River Distilling Company. But after having Four Kings, I knew I needed to find the other two!  My first find turned out to be Journeyman, through a newly-made whiskey friend named Derek, who went on vacation and visited the distillery. He was very impressed with the tour (he's very knowledgeable about distilling, so to impress him was no small task) and brought back four of their six whiskies. Ravenswood Rye was provided to me by the distillery manager, Daniel, to review and the other three are graciously shared by my friend. (He said something about leaving him some, I'm not really sure what that means). On to the tasting notes – sláinte!
W.R. Whiskey
Color: clear, since this is their barely-aged rye whiskey (and by barely, I mean less than 24 hours in new oak). It's the base for the next on the list, Ravenswood Rye.
Nose: A tiny bit sweet, it's a mostly neutral smell.  Even slighter than the sweet, is a small ethanol (alcohol) smell, but it's not unpleasant.
Taste: Smooth, sweet with almost no burn, W.R. doesn't linger on your tongue, either. It has a distinct flavor – it's a heavily wheated rye (which means there's a bunch of wheat, along with the rye that smoothes out the edges of the rye). It tastes good neat, and I think it would mix really well in your favorite cocktail, either savory like a Bloody Mary or with your  favorite fruit juice.
ABV: 45% or 90 proof
Cost: (online) $36
Ravenswood Rye
Color: A dark amber with golden tones.
Nose: Similar to the W.R., with perhaps a shade more of the alcohol smell, and the sweetness comes through in the form of coconut this time. (No coconuts were harmed in the making of this whiskey, I'm pretty sure).
Taste: Sweet, smoky, with just a little burn, this is a lighter-tasting rye than some I've had. I can definitely see sipping this neat (as I'm doing now), or mixed into a cocktail. But respect the spirit and its character – even just a little ice and bitters would make a great, simple cocktail.
ABV: 45% or 90 proof
Cost: (online) $50, though I've seen it in San Diego at $65 – depends on your level of instant gratification
Silver Cross Whiskey
This whiskey is made from equal parts rye, wheat, corn, barley. Its inspiration comes from Bill Welter,
Journeyman's Owner Distiller and his trip to Scotland. And golf. Not sure where golf came into things, but since the result is this delicious whiskey, FORE!
Color:  Golden amber, perhaps a shade lighter than Ravenswood.
Nose: Sweet, caramel corn smell, with a touch of maple. Zero alcohol smell.
Taste: This whiskey pretty smooth and mostly as sweet as the nose indicated. A bit of burn toward the end, but it certainly doesn't take away from the taste. Very similar to Ravenswood, without the smokiness. The four grains are blended seamlessly, without one overpowering the other.
ABV: 45% or 90 proof
Cost: Not currently listed on the same site, I'd guess the same $50 price as the other two aged whiskies.
Featherbone Bourbon
Once the EK Warren Historic Featherbone Factory (and run by a staunch Prohibitionist!) and now home to Journeyman, this bourbon takes its name from the way EK Warren changed the corset industry. By replacing the stiff whalebone with the softer featherbone, Warren let ladies breathe a little more easily – and maybe gave them a way to drink more whiskey!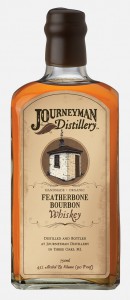 Color:  Slightly lighter golden amber than the others.
Nose: Surprisingly, for being more corn, this has a slightly more alcohol smell. The sweetness of the corn is there, but takes a backseat to an almost waxy/Crayons smell (no, I didn't eat them as a kid, stop that).
Taste: An unexpected sweet, floral taste! The same minimal/nearly lack of burn I've come to expect from these whiskies. It lingers on the tongue a little longer than the other three, but again, it's certainly not a bad thing.
ABV: 45% or 90 proof
Cost: (online) $50, though I've seen it in San Diego at $65.
Overall, the Journeyman whiskies are fantastic. It's unusual to find a range of whiskies that are all equally as good as the last. Even the unaged W.R. Whiskey is impressive. Keep up the tasty work! If you're in the Michigan area, stop in for a tour and a taste – tell them LikeYourLiquor sent you!
3 out of 3 – impressive!