Clear Creek Distillery has been distilling since the mid-1980s, before anyone even thought about coining the term "craft distilling". Steve McCarthy started making his from the fruit of his family orchards, after a trip to Europe gave him the idea. Brandies and eaux de vie were made as a way to use every bit of the fruit from an orchard, when large-scale refrigeration wasn't really an option. Necessity being the parental figure it is, farmers realized they could make spirits from the rest of the crop before it spoiled.
People have pre-conceived notions of "brandy" (defined as an alcoholic spirit distilled from wine or fermented juice).  Eau de vie is technically clear fruit brandy, but no one in the US was familiar with the term, which gave McCarthy a chance to explain the process and skip over those notions of "brandy". What followed has been more than twenty years of making eaux de vie from the local fruits, and selling to a small but growing market.
I had the pleasure of talking with Caitlin Bartlemay, one of Clear Creek's distillers. Working toward a degree in wine and fermentation, Caitlin realized she had a singular desire: to distill spirits. She worked toward that goal, and initially landed a gig at Integrity Spirits that involved, "peeling copious amounts of cucumbers".  She continued to pursue an internship with Clear Creek, and eventually her perseverance paid off!
Caitlin is now a big part of  the distilling team at Clear Creek that makes a single malt that's a match for some of the best stuff coming out of Scotland, an assortment of liqueurs and seven kinds of eau de vie. Half a million pounds of pears were used in 2013 just to make their pear eau de vie.  And not just any pear – it needs to be a Bartlett pear, otherwise you end up with a far less flavorful brandy. The pears are notably difficult to work with. They aren't fully tree-ripened (with the final ripening carefully monitored in-house), and then they must be used within a fairly short amount of time.  Plus, just one bad pear in the container can make the whole batch taste off. While refrigeration helps to control the conditions, a half million pounds of pears is no joke! Caitlin and the rest of the distillery staff are up to their eyeballs in pears for a couple of months.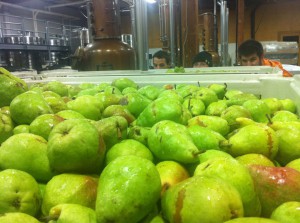 One of the more unique things about Clear Creek pear eau de vie is the pear in the bottle. Not a slice of pear – but the entire fruit! The first time you see it, it makes you tilt your head in the way your dog does when you say something he's pretty sure ends in, "treat". Clear Creek works with a local orchard, where the bottles are lashed to branches, shortly after the pear forms.  Give it a little time and some luck that the bottle doesn't fall off or the pear grows oddly, and voila! Pear in a bottle. It's the same eau de vie as the bottles without the pear, but how cool does that look sitting on your table?
Clear Creek also uses an assortment of other local fruits and botanicals, like the Douglas Fir. Their Doug Fir eau de vie ended up as an ingredient in the basket on Food Network's popular show, Chopped! Clear Creek's spirits have also been used by the likes of Bobby Flay, and the chefs at the White House.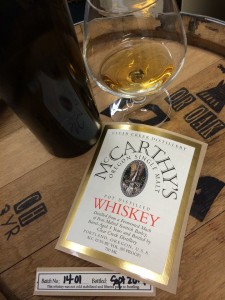 McCarthy's Single Malt Whiskey, made in the Scottish style, leaves Caitlin with smokey-smelling clothes when they make it just once a year. Based on the 2013 bottle that I have, I'm glad that Caitlin is willing to be a bit..fragrant, shall we say…because the whiskey is fantastic! I'm typically a Bourbon and rye fan, with a limited tolerance for the smokey, peaty taste of Scotch. McCarthy's is so good it earned one of the two spots I have for Scotch on my shelf. If you can find it – either at a local whiskey bar or in a shop- I'd highly recommend trying it!
Clear Creek offers tastings at the distillery, and you can buy bottles there, too. A few times a year, they do open the production area, when the staff will give samples from the still and tours throughout the day (there are no daily tours – they have a super small staff!). Check their website if a tour is what you're after, they list the dates on the Tasting & Sales page. If you do stop by, tell them LikeYourLiquor sent you! Cheers!