For four generations, Jason Barrett's family has been keeping men's suit jackets closed, one button at a time (well, depending on current fashion trends, maybe more, but I digress).  Because Jason's color-blind, the family joke was that he could always make black buttons. The other thing he discovered he could make, at the age of 19 in his dorm room, was beer. Granted, he wasn't old enough to buy it in a store, but no law said he couldn't make it. After a stint in corporate America that showed him he's not cut out to be a desk jockey, Jason decided to start his own distillery. Wait. What? Buttons…then beer…and now bourbon? Beer and bourbon start out the same way (hopefully you signed up for my newsletter and got a copy of my e-book, What's In Your Glass Anyway?  to learn that and other fun facts). Jason decided to bend his homebrew skills to distilling and Black Button Distilling was born!
Located in Jason's hometown of Rochester, NY, beside Rohrbach Brewing Company is a building that has a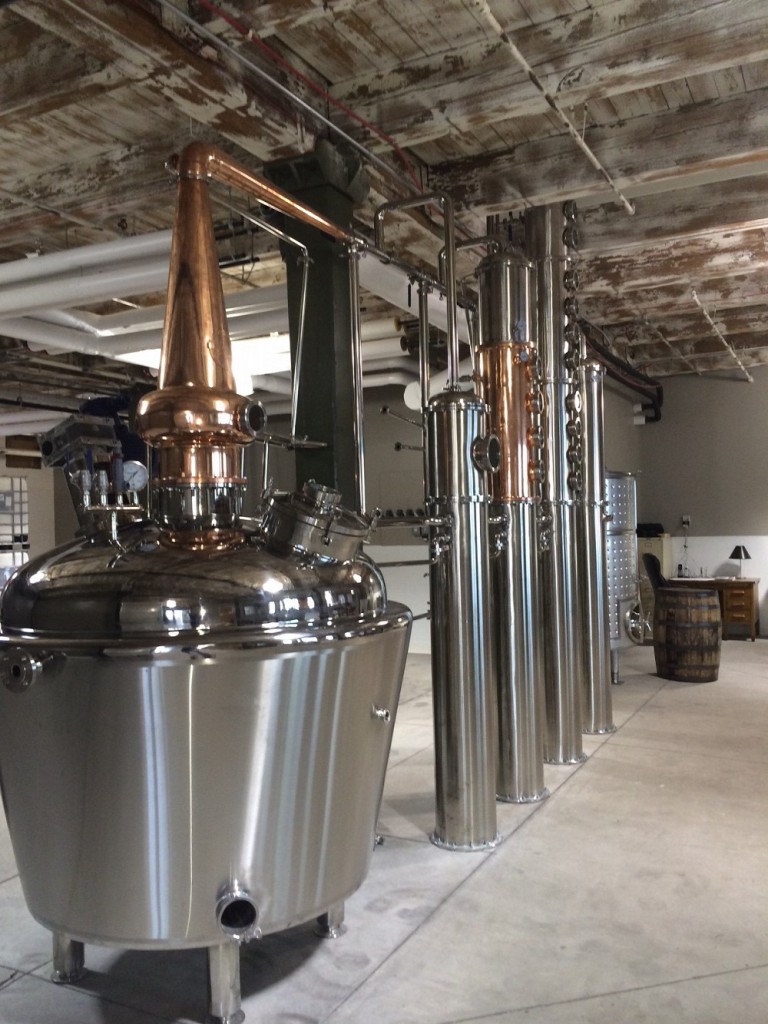 lovely but mostly unassuming door…with a button on it. Inside the vintage building is a state-of-the-art distillery, that makes about 900 bottles a week of Black Button's signature gin, vodka and whiskey. Everything that goes into Black Button's bottles is all-natural: grains grown on a nearby farm, botanicals from the area. Grain-to-glass is a term is used by small distillers, to describe their handcrafted spirits and Black Button closely follows that philosophy.
What's even more awesome is that Black Button opened less than a year ago, and is already cranking out booze that people are raving about. Their gin is named Citrus Forward Gin, because as Jason said, "Who wants to be smacked in the face with a Christmas tree??". I'd agree! While juniper is required for the hooch to be called gin, it doesn't have to taste like you're chomping down a branch of it.  Black Button's Yelp reviews say it nicely, "Where the magic happens," and "My favorite when I went was the gin. Yum!".
Currently on the menu alongside the gin is their Wheat Vodka and Moonshine. Jason did his homework when he learned distilling, and shared a bit of it with me. Moonshine is the unaged version of a distillery's whiskey. But it's not as simple as just putting it in a bottle instead of a barrel to age. To get a moonshine that's tasty on its own, a distiller needs to choose the best place to cut what's coming off the still. Heads are first, hearts, then tails. You don't really want to drink either the heads nor tails, but some of both are required to get the right flavor profile as a spirit ages in a barrel. Since moonshine's going straight into a bottle, a distiller must be more careful in choosing how much or how little of the heads and tails to include.  Jason believes that this cut is what sets Black Button's moonshine apart from some of the other stuff on the shelf.
Last but certainly not least according to the Yelpers is Black Button's maple syrup. They get fresh maple syrup from Vermont and let it age for a short time in used whiskey barrels, which will later be used to finish Jason's four grain bourbon. But for now, they produce what one reviewer called, "liquid crack!". Pass the pancakes please, I think I've found a new home.
Live Large…in small batches is the motto on the Black Button website. Did I mention that Jason's only in his mid-twenties?  I'd say he's definitely following his own motto.
Black Button Distilling's products are available all over the Rochester area with plans in the works to expand across New York. They also give distillery tours and have some great merchandise in the tasting room. If you're in the area, stop by and tell them LikeYourLiquor sent you! Cheers!