What does the grandson of a whiskey bootlegger do, after running  a marketing company for more than 25 years,  that had clients among the world's leading liquor companies?  Why, open his own distillery, of course.  Meet Keith Barnes, who founded Bainbridge Organic Distillers, with his son, Paul.
One common thread I've found when talking t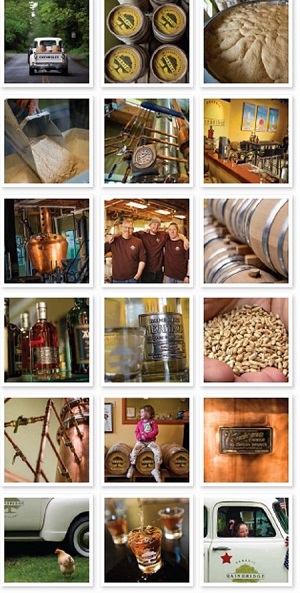 o craft distillers is the mantra: do it right, or not at all. Keith Barnes is no exception to that.  He didn't get into this business to make a quick buck by just throwing something together to get it on the shelf.  Keith has always been a huge believer in organic agriculture.  Living the Pacific Northwest, he's right in the middle of some of the cleanest air, water and foods available – and all those organic ingredients go right into his bottles. Douglas fir is indigenous to the Pacific Northwest, adding another local ingredient to the Bainbridge arsenal.
Bainbridge makes three spirits currently: Heritage Organic Doug Fir Gin, Battle Point Bourbon and Legacy Organic Vodka (with a vanilla vodka available soon). Winning medals at international spirits competitions isn't why he got into distilling – but it definitely doesn't hurt. "Winning a competition against bigger, more tech-savvy distillers is doubly sweet," Keith said, when I asked about his latest win. Bainbridge was awarded World's Best Vodka, and also World's Best Vodka Design for their packaging, from the World Vodka Awards, held recently in London.
Keith describes his vodka as unique and full-flavored, which is a bit of a departure from the typical tasteless, odorless liquid people are familiar with.  (In case you hadn't noticed, Keith isn't here to make the same old stuff). But if you're going to make something that ordinarily has no taste – what do you make it taste like?!
To develop the flavor profile of his gin, Keith tasted between 30 and 40 gins, most of them the modern versions (out of his collection of nearly 2,000 bottles – not all gin, of course).  A small number were pre-1940, back when there weren't tests and measurements and technical ways to quantify flavors.  It was just a man, or a woman, and their palate.  That's the way Keith makes his gin – natural, local ingredients, in small batch quantities. Doug Fir is also considered a wet gin (vs the London dry gin you may be familiar with).  Like his vodka, Keith's Doug Fir gin has a rounded, more lush flavor than some of the big label brands.
Not only does Bainbridge have access to a plethora of organic ingredients for his spirits, but the choice to locate the distillery on an island was no accident. The ocean air adds a characteristic that can't be mimicked in any other way. A big label bourbon actually puts barrels of their hooch on a ship for upwards of two YEARS, to move the bourbon around in the barrel, and to get hints of the ocean air as it ages. Location, location, location isn't just true for the real estate biz – it's a definite bonus for the spirits of Bainbridge.
Bainbridge Organic Distillers isn't just a distillery.  It's an expression of Keith's personal values. He makes his spirits in the cleanest, most sustainable way: it's a business that he can feel good about handing down to his son.
If you find yourself in Seattle – make sure to take a trip over to Bainbridge Island.  Tasting tours run year round, but check their site before you go (there are seasonal variations).  If you do drop by, say hi to Keith – and tell him LikeYourLiquor sent you!